5 Reasons Why You Should Invest In a Palletizer
As your company grows and expands its product offerings, you may find that a conventional palletizer is unable to handle the variable packaging for your product line. A traditional automated case packing system has its share of disadvantages: the large footprint, along with an inability to handle a variety of product dimensions. Robotics divisions have made great strides in recent years, proving to be viable substitutions for traditional palletizing and depalletizing systems. A robotic palletizer can allow you to efficiently palletize mixed case pallets containing a variety of product sizes. Here are five reasons you should invest in a robotic palletizer:
Advantages of Robotic Palletizers
Smaller Footprint
Robotic palletizers take up a fraction of the space when compared to it traditional palletizing system counterpart. Whereas an automated packing system is conveyor-based, robotic palletizers require far fewer conveyors which allows them to fit into small-scale facilities where space is at a premium. By switching to a robotic palletizer, you could free up floor space currently utilized by a large conveyor-based system and regain room in your warehouse to grow and expand in the future.
Scalability
Demand isn't a consistent flow for most companies. Robotic palletizers make it simple for you to scale back the workload during the slower production periods. Alternatively, they also allow you to ramp up production in order to meet an increased demand. This process is much easier with a robot than the traditional systems, where you would need to turn off entire lines via a time-consuming and difficult process.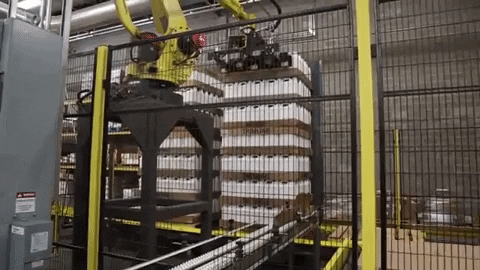 Sign Up For Your Free Automation Consultation
Flexibility
As your company grows and evolves it is likely to require the addition of new product offerings, and these are not likely to remain the same exact size as your existing products. A robotic palletizer has the ability to pick packages of varying sizes without needing to go through different systems. This allows you to save time and workload when palletizing different products via a robotic palletizer.
Speed
Implementing a robotic palletizer can speed up packaging efforts almost immediately, providing a quick start for your return on investment. Packaging lines become autonomous and take a fraction of the time previously needed to get product ready for shipment. Robotic palletizers provide a more consistent packaging operation with less downtime compared to traditional systems.
Decrease in Labor Injuries 
Palletizing products requires repetitive bending over and lifting of items, which puts strain on a worker's body. This can lead to work-related injuries which are expensive, time-consuming, and cause production delays. A robotic palletizer decreases the amount of labor required for packaging because they automate the dull and dangerous work, helping to mitigate labor injuries.
These are just five reasons why you might want to implement a robotic palletizer into your packaging system. Click here to read more if you want to learn more about what a robotic palletizer can do for your company. You can also contact our team of packaging experts
Fill Out This Form To Be Put In Touch With One of Our Robotics Engineers:
[contact-form to="mdunn@rmhsystems.com" subject="5 Reasons Why You Should Invest In a Palletizer"][contact-field label="Name" type="name" required="1″][contact-field label="Email" type="email" required="1″][contact-field label="Website" type="url"][/contact-form]
RMH Systems provides innovative material handling, packaging, and robotic automation solutions. Our engineers focus on conveyor, overhead cranes, end-of-line packaging, inkjet coding, racking, ergonomics, scales, and robotics.