MAXIMIZE YOUR SPACE THROUGH WAREHOUSE RACKING SYSTEMS
RMH Systems is an industry leader in high-quality warehouse racking systems. We have a team dedicated to warehouse racking and storage solutions. We can provide standard or custom designs depending on your specific needs — we can help you design or redesign your warehouse to maximize space, storage and efficiency. Please call us in your planning phase to get started. Ask about our 48-hour quick ship program!
Pallet Racking
Structural or boltless racking in a variety of sizes & capacities. Our racking withstands the toughest environments.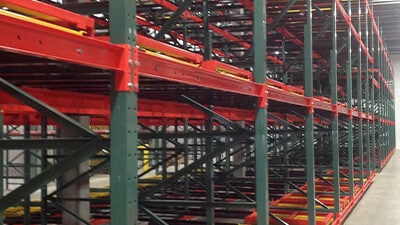 Pushback Racking
Crucial for saving space. These systems fill the storage cubes, not the aisles. We can go 2 to 6 pallets deep retaining easy SKU access.
Pallet Flow Rack
Efficient and cost-effective, these systems combine excellent space utilization and FIFO inventory control for flexible selectivity.
Drive In Drive Through Racking
Requiring fewer aisles & providing better cube utilization, drive-in/thru racking systems allow you to store up to 75% more pallets than selective racking.
Cantilever Rack
Superior storage solutions — no front columns, making loading/unloading easier. Useful for long, bulky or oddly shaped loads.
Carton Flow Rack
High capacity & durability. Single lane or flow bed options that can be added to your racking systems.
Over Dock Door Racking
Perfect for empty pallets or corrugated storage. Loading dock clutter is inefficient and unsafe.
Pick Module Systems
Dynamic rack systems with conveyor to enhance productivity for order-filling operations. Single or multi-level options.
Vertical Storage Carousels
Automated goods-to-person carousels. Save square footage by storing parts or inventory in a carousel that brings SKUs to the operator.
Industrial Modular Cabinets
Our custom modular cabinet systems provide organization at its best for fast retrieval in order picking.
Shelving
Industrial racks and warehouse steel shelving systems provide versatile organizational strength.
Wire Decking
Complete line of wire decking and partitions. Ask about our stock size options.
CONTACT US
Fill out the form below to get in touch with our engineers.
Contact RMH Systems
"*" indicates required fields